Our Solutions
We tailor our solutions to fit each client's unique requirements,
resources and context.
Despite this tailored approach, our goal is always the same: to maximise impact, clearly communicate key learnings and leverage your success for sustainability and scale.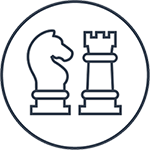 We facilitate strategic planning and development of a theory of change and supporting framework to guide your impact management processes and practices.
Based on the blueprint of your theory of change and impact management framework, we help you to identify meaningful performance indicators, tools and data collection and management systems to suit your resources and needs. This may include gap analysis, metric mapping, benchmarking and standard alignment.
Our expertise in planning and coordination of engagement with stakeholders across your ecosystem supports resource mobilisation and impact management, initiating and building relationships that matter most to you.
We believe in strengthening teams and building capacity to respond to changing contexts and demands. Our solutions are designed to enhance and transfer skills to our clients' teams.
RESOURCING & DUE DILIGENCE
Social and environmental change is complex and typically involves multiple stakeholders to achieve the right results. We can assist you to identify, source and vet the partners to invest in, collaborate with, or invest in you.
DATA COLLECTION, ANALYTICS & INSIGHTS
We source and partner with leading technology providers to support efficient, evidence-based data analytics. The focus we place on analysing data to explore and uncover key impact insights drives enhanced decision-making and programme design.
Our passion for actionable insights for positive change translates into accessible, engaging and visually interesting reports, storytelling and communications to share your resource needs, impact and learning with the right audiences.
RESOURCE MOBILISATION & COLLATERAL
We integrate outcomes-based, innovative approaches to develop resource mobilization strategies that guide and implement fit-for-purpose plans, supported by storytelling, supporting collateral and team training.